I received a copy of this through Netgalley in exchange for an honest review.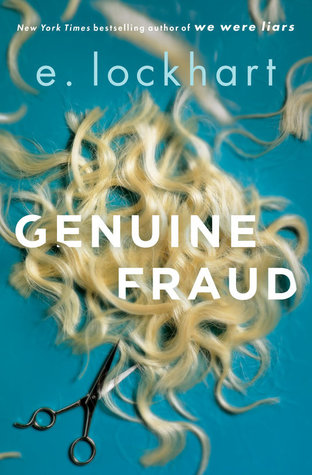 Title: Genuine Fraud
Author: E. Lockhart
What's it about? The story of a young woman whose diabolical smarts are her ticket into a charmed life. But how many times can someone reinvent themselves? You be the judge.
Imogen is a runaway heiress, an orphan, a cook, and a cheat.
Jule is a fighter, a social chameleon, and an athlete. 
An intense friendship. A disappearance. A murder, or maybe two. 
A bad romance, or maybe three.
Blunt objects, disguises, blood, and chocolate. The American dream, superheroes, spies, and villains. 
A girl who refuses to give people what they want from her.
A girl who refuses to be the person she once was.
[Blurb taken from Goodreads]
What's good about it? Oh my God. Oh my God. I'm still reeling from this one. It was so unexpected. I LOVED the structure of it, how it works backwards in time revealing tiny snippet after tiny snippet. It's effective, really effective (and it does help to prevent you guessing elements of the plot). I don't usually read a lot of thrillers and I thoroughly enjoyed this one.
Jule is a rare character. Deliciously frustrating and delightfully unreliable. To say anything else would give too much away, although I will say I wish I had her memory. She's unapologetic in her strength, she revels in it and it's so refreshing.
The detail! Nothing is missed and it's so beautifully laid out.
What's bad about it? If I'm being picky, it took a few pages for me to settle in to her style as the beginning felt a little abrupt. Also, because the narrative is working backwards through time, you've got to concentrate otherwise it's easy to lose track of what's happening.
The verdict? You have to read this. The blurb doesn't give it enough justice. This is a rare gem of a book with twists, turns, intrigue and remarkable cleverness. This may be my favourite read of the year so far! I wasn't 100% on board with the skipping backwards through time to start with, but by the end of the first couple of chapters I was absolutely hooked. All the characters are hideously, hopelessly flawed and each one feels so real. With each skip back through time you learn something more (and unlearn something else). I've never learnt so much and yet so little in one book. Just brilliant. Although you do have to concentrate.
If you're considering this for yourself or to give to someone else, it's worth keeping in mind that this is straining the up limits of YA fiction, given the ages of the characters and what they're getting up to.
But it is a genuinely gripping, thrilling read that I highly recommend.