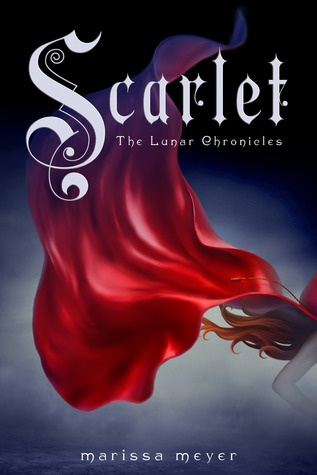 Title: Scarlet
Author: Marissa Meyer
Series: The Lunar Chronicles (book two)
Who's it for? Teens
What's it about? Scarlet Benoit's grandmother is missing. The police have closed her case. The only person Scarlet can turn to is Wolf, a street fighter she does not trust, but they are drawn to each other.
Meanwhile, in New Beijing, Cinder will become the Commonwealth's most wanted fugitive – when she breaks out of prison to stay one step ahead of vicious Queen Levana.
As Scarlet and Wolf expose one mystery, they encounter Cinder and a new one unravels. Together they must challenge the evil queen, who will stop at nothing to make Prince Kai her husband, her king, her prisoner…
[Blurb taken from the book]

What's good about it? I'm still loving the reinvention of fairy tales; this time its Red Riding Hood in the form of Scarlet and 18 year old farmer who always wears a red hoodie. Loved the red hoodie – an obvious choice of clothing for her to wear but I don't care, I loved it.
Scarlet's great – she's more self assured than Cinder – not that she has had an easy life, but she lived with her grandmother and knew she was loved, unlike Cinder who was treated like a second-class citizen and never like family (except by Peony). Scarlet's relationship with her grandma was lovely and the moments between them (flashback and otherwise) were actually quite sweet, so I could definitely understand her dropping everything in her life to go find her.
The majority of the plot belongs to Scarlet and her search for her Grandmother, but this interweaves with short interludes from Cinder and Kai in New Beijing and I really enjoyed a more global feel. I've read too many books where the action only happens in one particular place, so it was nice to read one where it doesn't just exist in one tiny world.
I loved learning more details about this world and the Lunar colony – especially about their soldiers – but I WANT MORE! Reaaaaally hoping the next book gives a little more information about this world. I'm loving what I've read so far, but I just want more!
I quite like Thorne – Cinder's criminal sidekick – he's got a Captain Jack Harkness (for any Torchwood/Doctor Who fans) swagger to him AND, more importantly, there wasn't a hint (at least to me anyway) of an oncoming Thorne – Cinder – Kai love triangle. A billion percent do not want another love triangle.
What's bad about it? Nooooot entirely convinced by the insta-love between Scarlet and Wolf. I felt there could've been a little more between them than her being drawn to him and his mysterious eyes. It got better but…having dreamy eyes does not a romance make.
The verdict? This, much like the first book, was an enjoyable read. I really love how Marissa Meyer is re-imagining well-known fairy tales in this world she's created and I can't wait to see what she does in the rest of the series. The characters are great, the plotline is engaging and it feels fresh. I'm a bit gutted that I couldn't just pick up the next book in the series, but both Cress and Winter are definitely on my wishlist now!